Brooke Hogan Backs Dad Hulk Hogan With Loving Poem After Racist Rant Scandal, Star Answers
Brooke Hogan added poet to her resumé by debuting a piece she wrote especially for her father, Hulk Hogan, who is embroiled in a racist scandal. According to Miss Hogan, despite the fact that Mr. Hogan called the black man she was dating, a ni*ger, he is a great man who loves everyone no matter their race.
Brooke Hogan wrote a very personal poem about her father, Hulk Hogan – real name Terry Bollea – who has been dubbed a racist by many. Late last week, news broke that several websites had obtained the transcript of a $100 million defamation lawsuit filed by Mr. Hogan against Gawker Media for publishing a sex tape he made with Heather Clem, the estranged wife of radio personality Bubba the Love Sponge in 2012.
According to the transcript, the legendary wrestler and reality star had a lengthy exchange with Clem where he used the word ni*ger multiple times as he was talking about the African-American man that his daughter, Brooke, was dating at the time. Mr. Hogan also confessed to being a racist during the taped pillow talk that is eight years old.
This is what Hogan had to say about the son of a "black billionaire" that his daughter was seeing:
"She is making some real bad decisions now. My daughter Brooke jumped sides on me. I spent $2-3 million on her music career, I've done everything like a jackass for her."
He added:
"I mean, I'd rather if she was going to fuck some nigger, I'd rather have her marry an 8-foot-tall nigger worth a hundred million dollars! Like a basketball player. I am racist, to a point, fucking niggers. I guess we're all a little racist. Fucking nigger."
Before the racist rant even hit the Internet, WWE fired Hogan, removed all references to the athlete on its website and went as far as deleting his WWE Hall Of Fame page.
Despite his lengthy apology, the world just kept slamming the wrestler, which prompted Brooke Hogan to defend her dad with a poem entitled "If You Knew My Father." Miss Hogan wrote:
If you knew the dad I knew,
you'd know his tender heart.

He'd never want to hurt his fans,
or family from the start.

If you knew my father,
you would know how hard he fought…

and the way it brought a smile to people light, medium and dark.

We always fight a battle
that people never see,

and sometimes when you're hurting, you don't think logically.

Human isn't perfect,
and perfect is not he,

but I can tell you one thing, it's just not what it seems.

Cause If you knew the dad I knew,
you'd know he raised me well.

He taught me folks are so much more
than shades could ever tell.

And If you knew my father,
you would know he's down to earth.

He may have slammed the giant,
but remembers life's true worth.

If you knew my father,
if you just walked in his shoes…

then you would know that microscope that comes with yellow boots.

If you knew my father,
you would see your own in mine.

And if he was your father, you could never find divide.

Cause me- I bet your father
or someone that you love

Maybe regrets something
they wish they'd never done.

So if you know my father,
remember he's a man,

and you would crave relief if people judged everything you did.

The lord says to forgive them,
don't be the one to stone…

so please remember his strong arms when you were all alone.

The lives he's changed, the friends he's made,
the people he's inspired…

It makes me sad to see my dad
defeated and so tired.
Along with the poem, Brooke shared a picture collage of her father with fans and fellow wrestlers, (she made sure to include black athletes.)
You can read the entire poem below.
What are your thoughts on Brooke Hogan's poem?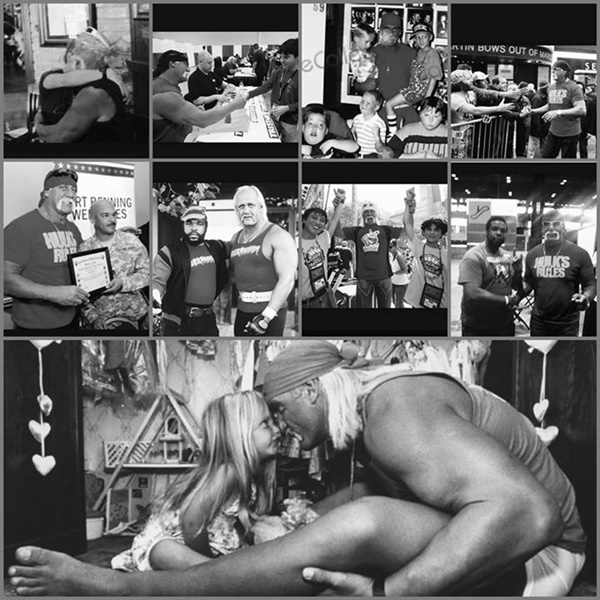 My daughter wrote this poem and it broke my heart,it starts about one minute into the video,I'm good now,only love HH pic.twitter.com/DG4KdnHpii

— Hulk Hogan (@HulkHogan) July 27, 2015
Category: Sports